Employment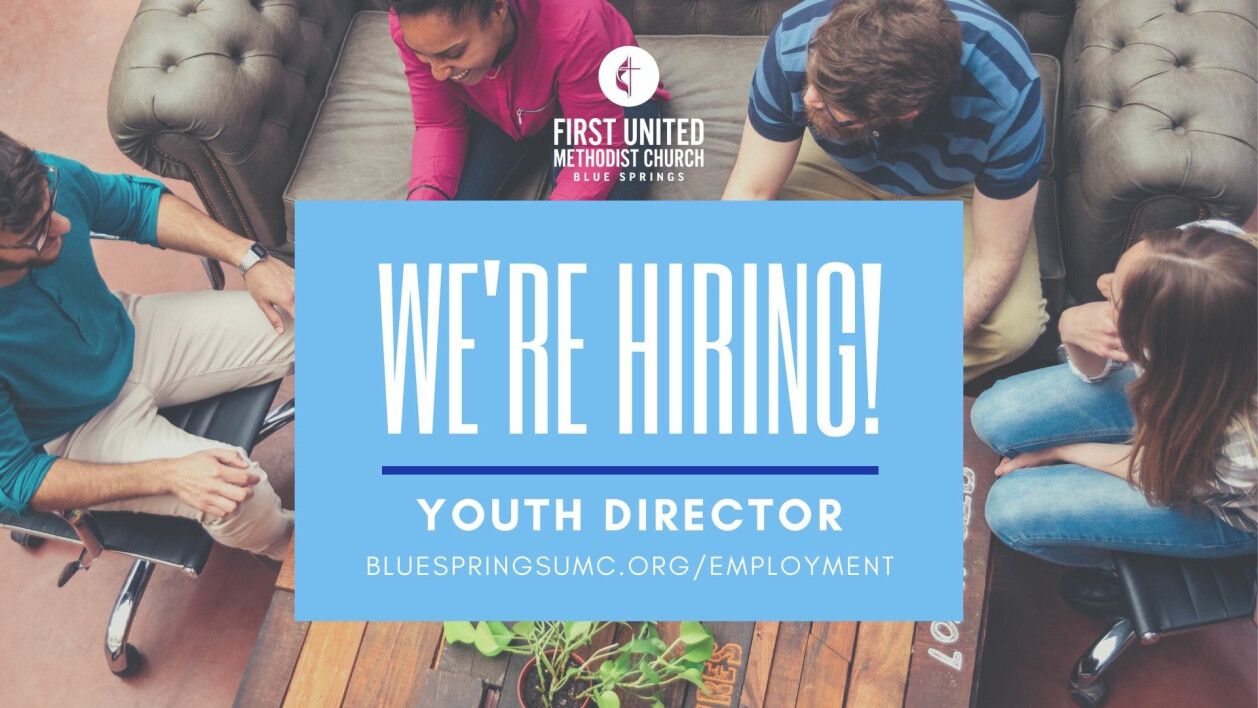 Now Hiring a Youth Director
First United Methodist Church Blue Springs
Youth Director Job Description
First United Methodist Church is a 150 year old church in Blue Springs that prides itself on being a church for all generations! We're seeking a full-time Youth Director to begin this summer or fall who will oversee our student ministry, Impact Youth, for 6th-12th grade students. Our dream is that this leader will build up these programs, reach new families, and provide vision and direction with the ultimate goal of helping young people become active followers of Christ. We are committed to the Orange curriculum philosophy, believing that when the home and the church work together, we can have a greater impact on the life of a young person.
The ideal candidate for this position is…
Experienced in student ministry (ideally with 3+ years leading in this capacity)

Strategically minded and able to think years down the road

Familiar with the Orange curriculum philosophy and United Methodist theology (or willing to learn)

Administratively skilled and able to build systems that empower others

Excellent at raising up volunteer leaders and building strong teams

Relationally gifted and understanding of the importance of sharing their life with others

Ideally holds a Bachelor's degree in a related field
Duties Include:
Developing and implementing a strategic vision and discipleship pathway for youth in coordination with the NextGen Pastor and children's ministry

Leading, recruiting, and equipping volunteers to oversee Impact Youth programming on Sunday mornings and Wednesday evenings

Acquiring, developing, and implementing curriculum for Impact Youth and confirmation

Attending weekly staff meetings and any other strategic meeting assigned by NextGen Pastor

Attending student events like plays, games, and music concerts.

Establishing and continuing effective communication plan to families and actively staying in touch through multiple channels

Keeping up to date with "Safe Gatherings" certification and ensuring that appropriate safety and security procedures are followed at all times.
Other duties include:
Developing an annual calendar of events for students with the intention of inviting new families into community at First UMC

Planning a summer mission trip and/or camp for Impact Youth

Participating in weekend worship when scheduling allows

Being involved in some form of adult small group or discipleship group

Maintaining personal spiritual disciplines necessary for vibrant spiritual leadership
Lines of Accountability
The Youth Director will report to the NextGen Pastor for the purpose of work evaluation and review. This position is finally accountable to the Leadership Council of First United Methodist Church and has direct access to that committee when desired. A written copy of employee policies, guidelines, benefits, and holidays are on file in the Church office and can be requested.
Details:
We want you to love being part of the team at First United Methodist Church. Here's what we will provide:
Starting salary begins at $35k with adjustments dependent on experience

At least 15 Paid-Time Off (PTO) days per year

No health insurance provided
When you submit your resume and cover letter, please address why you're interested in this position, why you'd feel comfortable serving in Blue Springs, what makes you stand out from other candidates for this position, and your favorite breakfast cereal. Resumes and cover letters can be sent to